World Responsible Tourism Awards Finalists Announced 
Managing Tourist Behaviour to Address Overtourism
Have You Given In to Climate Change?
Dick Smith exposes foreign booking sites taking advantage of the drought
National Parks, Recreation and Biodiversity
Chris Packham: A People's  Manifesto for Wildlife
Tourism Concern closes 
Seoul:  Efforts to Promote Sustainable Urban Tourism
WARNING Child Protection, beware of what you post. 
New Film ON OUR TERMS
1.   World Responsible Tourism Awards Finalists Announced
Leaders stand out from the crowd. When the Awards are presented at World Travel Market in London on World Responsible Tourism Day, Wednesday 7th November, at noon, Tanya Beckett will interview the Gold winners about what they have done, why and what they have achieved.   We'll be asking about why it makes business sense to take responsibility. The judges have deliberated long and hard after reviewing all the applications, longlisting and then shortlisting, the finalists for this year's World Responsible Tourism Awards have finally been decided. There were long debates amongst the judges on judging day about the merits of each application. The finalists are announced here. 
2.   Managing Tourist Behaviour to Address Overtourism
Back in February CNN named 12 destination travellers might want to avoid. Increasingly the focus is on the honeypots to avoid and local authorities are beginning to regulate behaviour. In Venice, the city council is introducing a host of regulations, permits for busking and sketching and fines for pausing on bridges leading to fines of between €25 and €500.   
On Skye rebellious locals have destroyed more than 100 stone stacks created by tourists at the Fairy Glen, near Uig. More in The SundayTime
Jessica Loudis in a review article in The Nation 'Overtourism' Is Driving Europeans Crazy" reminds us of Justice Potter Stewart's famous definition of pornography—you know it when you see it.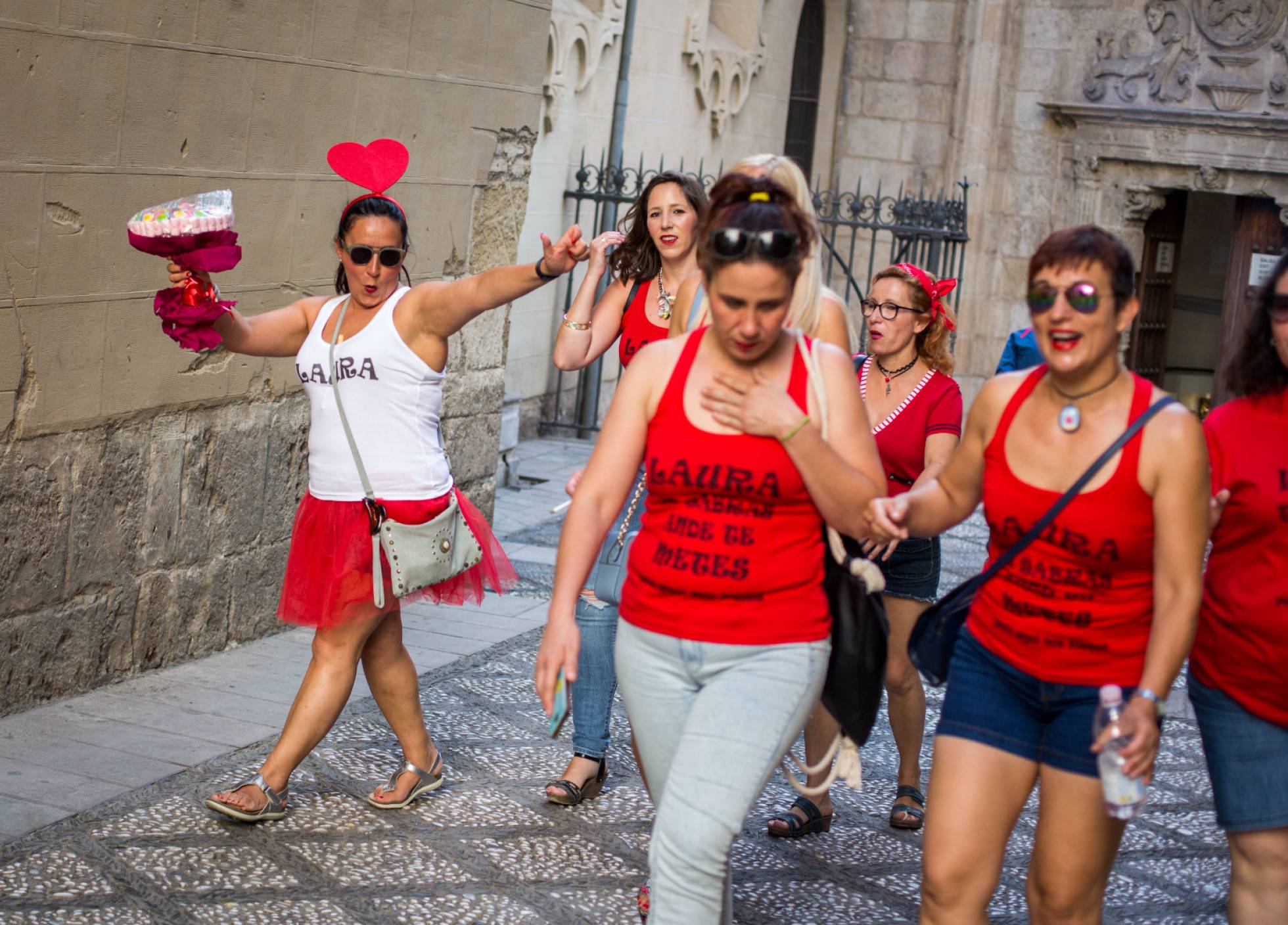 Jessica Loudis in a review article in The Nation 'Overtourism' Is Driving Europeans Crazy" reminds us of Justice Potter Stewart's famous definition of pornography—you know it when you see it.
Last year Florence began to hose down church steps to deter tourists from picnicking there. Since 4th September eating in four streets has been banned. A bilingual sign, directing visitors to "respect residents, traders and workers of this street", has been distributed for display by local businesses. More in the Independent.  In Andalusia, local authorities are working with the police and businesses to regulate and control the outrageous behaviour of the stag and hen parties which is no longer tolerated. More in El Pais
3. Have You Given In to Climate Change?
As this RT News is published the IPCC is meeting in South Korea to try to identify ways in which the rise in average global temperature can be kept below 1.5%. Leaked drafts of the new report suggest that global warming is on track to break the 1.5C mark by around 2040. More.  Climate Change is a real and present danger. Denial remains strong. In the UK the Advisory Committee on Climate Change says we are on track to miss legally binding targets, and that this looming failure is partly attributable to the government.  Three environmental activists were sentenced to between 15 and 16 months in jail for their part in a protest against fracking in Lancashire. The Guardian, in an editorial, argues that the actions of activists are a reason to hope. In the USA the Trump administration accepts that there may be a 7F rise in global temperature by 2100. The Trump administration says human-caused climate change is inevitable, so environmental standards are pointless. Given Up
As Martin Lukacs argued in The Guardian last year  "Neoliberalism has conned us into fighting climate change as individuals" and urges us to stop obsessing with how personally green you live – and start collectively taking on corporate power. Climate Change will not be stopped by consumers, rather citizens need to act.
George Monbiot recognises "that challenging our least contested ideologies – growth and consumerism – is a tough call. But in New Zealand, it is beginning to happen. Jacinda Ardern, the Labour Prime Minister, says "it will no longer be good enough to say a policy is successful because it increases GDP if it also degrades the physical environment." How this translates into policy, and whether her party will resolve its own contradictions, remains to be determined."  Deathly Silence
4.   Dick Smith exposes foreign booking sites taking advantage of the drought
Dick Smith is an Australian entrepreneur, businessman, record-breaking aviator, philanthropist is angry. Support the home team.
5.   National Parks, Recreation and Biodiversity
The 14th International Conference on Responsible Tourism in Destinations in Plymouth this month provided an opportunity for academics and protected are managers to address the challenges of overtourism in national parks and the inevitable conflicts that arise between biodiversity conservation and the political and economic imperative to grow recreational use and tourism. More
6.   Chris Packham: A People's  Manifesto for Wildlife
British naturalist Chris Packham et al published A People's Manifesto for Wildlife this month. Our protected area system is not protecting our biodiversity.
'Between 1970 and 2013, 56% of UK species declined. Of the nearly 8,000 species assessed using modern criteria, 15% are threatened with extinction. This suggests that we are among the most nature-depleted countries in the world. Of the 218 countries assessed for 'biodiversity intactness', the UK is ranked 189, a consequence of centuries of industrialisation, urbanisation
and overexploitation of our natural resources.'
"It's time to wake up. We must rouse ourselves from this complacent stupor, because we are presiding over an ecological apocalypse and precipitating a
mass extinction in our own backyard. But – vitally – it is not too late. There is hope we can hold to, and there is action we can take."

7.   Tourism Concern closes
Tourism Concern has struggled financially for several years as donor and government funding has dried up. 2019 would have marked the 30th anniversary of an organisation which has done so much to point out that tourism is not a pollution-free industry, not entirely a blessing and to campaign to make tourism better. Others will continue to campaign but Tourism Concern will be sadly missed. Read more in The Guardian
8.   Seoul:  Efforts to Promote Sustainable Urban Tourism
Catherine Germier-Hamel writes in Sustainable Brands "Seoul has been striving to promote alternative forms of tourism that do not put pressure on destinations and offer quality experiences to citizens as well as visitors . Various landmarks in Seoul – for example, the villages of Ehwa and Bukchon in the central district of Jongno – have already suffered from excessive noise, traffic congestion and littering due to overcrowding. Due to its well-preserved Korean houses known as hanok, which date back to the Joseon dynasty (1392-1897), Bukchon village has become a key tourist attraction, receiving a daily average of 10,000 visitors, 70 percent of them foreign tourists. In the 2000s, Bukchon residents were encouraged to renovate their hanok through government support so that these traditional houses could be promoted as key sightseeing spots and even offer home stays. However, the locals quickly started to feel overwhelmed by the uncontrolled flows of tourists; according to an academic study released in 2017, the tourism boom in Bukchon contributed to a 14 percent decrease in the number of residents over the past five years."
9.   WARNING Child Protection, beware of what you post.
peopleandplaces have some invaluable advice in their latest newsletter. Sharing images of abuse, even when the goal is to question those images and promote best practice, could be a criminal offence in the letter of the law. The correction action is available here. 
10. A New Film from Responsible Travel: ON OUR TERMS

Not all tourism is overtourism. On Our Terms: A Story of Responsible Tourism tells how a landowning Maasai community in Kenya have welcomed tourists onto their land, offering a beautiful place to stay; Maasai-guided walking and driving safaris; and a real insight into their culture and way of life. Narrated by Derrick Nbaala, a Maasai guide, this story shows how a community can use tourism to their benefit, whilst offering a unique and unforgettable experience for the tourist too. Video
---
JOBS
Sustainable Tourism Lead South Downs National Parks Authority closing date 07 October
Other Responsible Tourism Newsletters
Outlook India Reports on Responsible Tourism 
Better Tourism Africa
Responsible Traveller, South Africa
Encounter Africa
Subscribe to WTM's RT Update here 
Responsible Tourism News is a newsletter of record carrying the 10 most important Responsible Tourism stories of the month. 8,000 people subscribe to receive it every month.  Please forward to those you think may be interested – you can subscribe using the box on the right. If you wish to contribute a story email harold@haroldgoodwin.info or post it on our RTNews Facebook page.
You are receiving this email because you have been receiving RT News for some years or have subscribed online more recently. Your name and email address is kept securely by our agent and used only to send you a copy of RT News. We will never sell or give your mailing address to any other organisation. Every edition of RT News sent by email comes with an unsubscribe function so if at any time you wish to cease receiving RT News please unsubscribe. Our mailing list contains only your name and email address.
If you have any queries please email harold@haroldgoodwin.info
Harold Goodwin's Responsible Tourism Blog
Harold Goodwin blogs regularly on the  WTM Responsible Tourism Blog
Twitter: @goodwinhj  & @WTM_WRTD  #responsibletourism